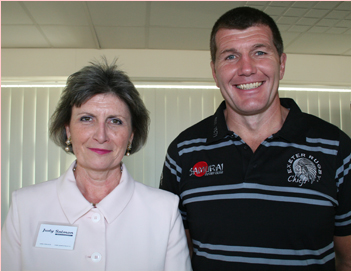 Judy with Rob Baxter
photo supplied courtesy of Anita Newcombe
Rob Baxter, Head Coach, Exeter Chiefs
From Devon Life:
The atmosphere was buzzing at Exeter Chiefs Rugby Club at Sandy Park in Devon when hugely successful Head Coach Rob Baxter was interviewed by leading business coach Judy Salmon at a private event in the presence of invited guests from the business community. Following a welcome reception for 130 guests, Judy Salmon and Rob Baxter were introduced by Andrew Maynard of Michelmores LLP. Rob revealed many ingredients of his success with the Chiefs including a favourite key word which helps to motivate the players: 'ACE' (attitude, commitment and enjoyment) which later became 'GRACE' (graft, respect, attitude, commitment and enjoyment).  Guests present were also inspired by Rob's system of 'hunting for highlights,' which meant the importance of celebrating success. This has particular relevance to the business community. The evening ended with a fundraising auction in aid of The Exeter Foundation, £1800 was raised.
Judy Salmon said,  "As a local Business Coach and Training Consultant I am always looking for inspiration so that I can also help my clients. I was really thrilled that Rob Baxter agreed to be interviewed by me so that I could share his thoughts about how the Exeter Chiefs have become so successful. It is a particularly challenging time for businesses at the moment so I thought it would be a great opportunity to draw inspiration from a local success story and we certainly did! I was also really pleased to be working with my sponsors Knight Frank LLP, Arbuthnot Latham & Co., Limited, and Northcott Beaton and grateful to them for their support in making this event happen."
Rob Baxter said, "I am delighted to be working with Judy Salmon on this event to share my thoughts about coaching with some members of the local business community and to promote The Exeter Foundation, our new charity."
Will Morrison, Head of Knight Frank LLP, Exeter said, "It is not very often that the worlds of property, rugby and professional business coaching come together and so we were delighted to be joint hosts of what was a very informative and unique evening brilliantly organised by Judy Salmon."
Ian Scott, Regional Head of Wealth Planning, Arbuthnot Latham & Co., Limited said,  "To hear Judy Salmon interview Rob and find out first-hand how he intended to continue invigorating the Chiefs by investing in players and facilities was truly enlightening and led to an entertaining evening for all.  In addition, we held an auction to raise funds for the Exeter Foundation – the Foundation provides the city of Exeter and its surrounding areas with a civic trust that promotes the community and pursues the vision of people who live and work there – a very worthwhile cause which Arbuthnot Latham & Co., Limited is happy to support."
Keiron Northcott of Northcott Beaton said, "Northcott Beaton were very happy to get involved with Judy Salmon's event because we genuinely believe that the success of the Rugby Club and the input of local boy Rob Baxter is, and should be, an inspiration to everyone in and around Exeter."
For the full Devon Life article with photos please click here